Join the Font of the Month Club and get a fresh new font delivered to your inbox every single month! Each font is lovingly designed and produced by me, David Jonathan Ross.
Fonts of the month include distinctive display faces, experimental designs, and exclusive previews of my upcoming retail typeface families.
By diversifying your font collection at a minimal cost, the club can push you to try new and interesting type in your work.
MEGABASE OPEN
Where do I even start with this one? Megabase Open is a hollowed-out version of Megabase, a display gothic with strong horizontal stress inspired by the clunkiness of 19th-century gothics like Gothic Bold and the space-age funkiness of 1970s designs such as Aldo Novarese's Sintex and Bob Newman's Zipper. This month's issue features experiments that fill those hollow spaces with colors and gradients.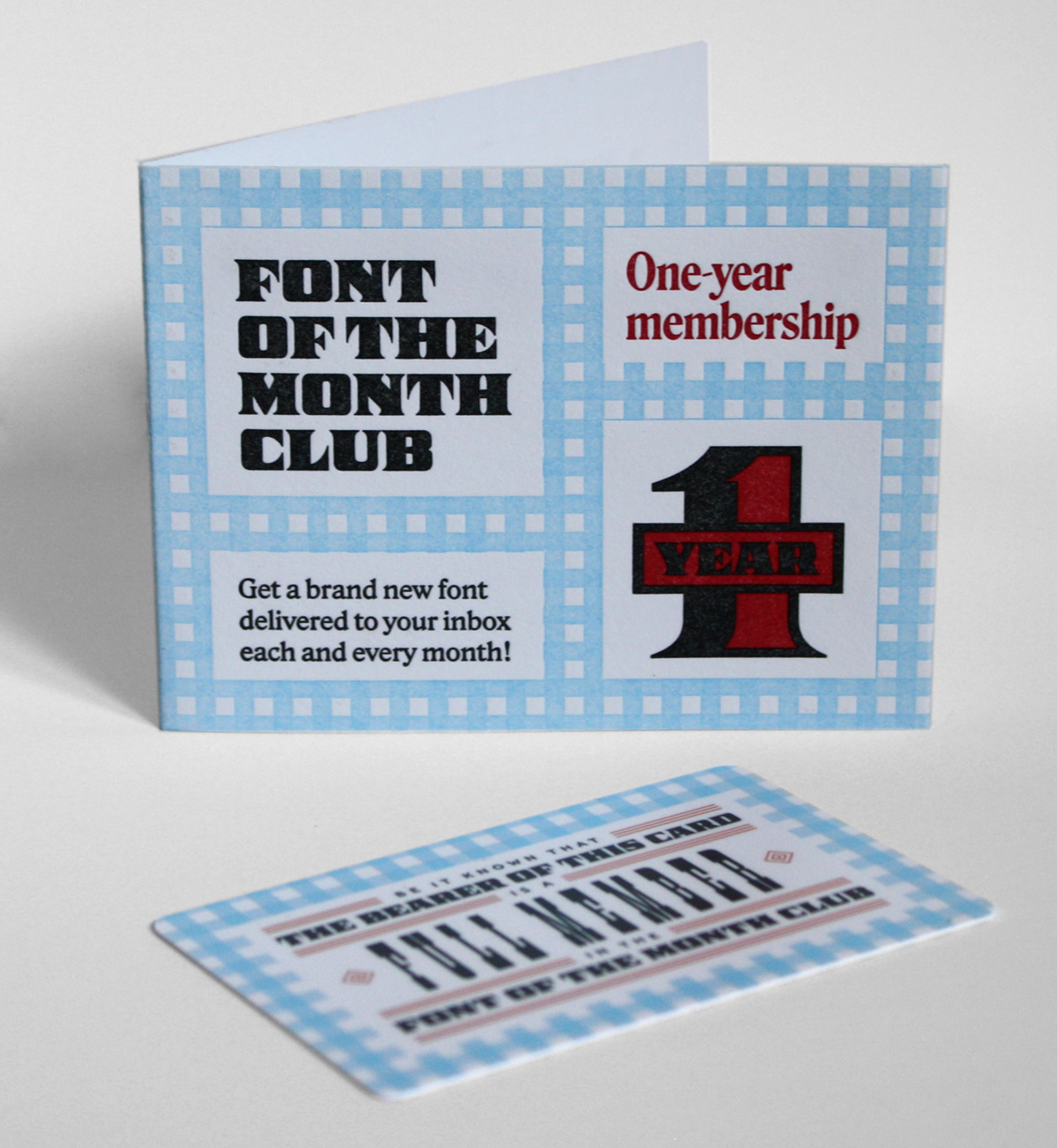 Give a gift subscription to your favorite font lover, complete with a keepsake envelope and membership card!
All Fonts of the Month
Font of the Month Club has been going strong since May 2017. Club members can order back issues at a discounted rate of $12–16 per issue, and if you catch up on all of the back issues at once, it's even cheaper than that! You can choose which ones you'd like right from the signup form, and testing licenses are available upon request.
Here are all the club fonts so far:
What's the point of this club?
In addition to creating my retail type families, I love working on small side projects that revisit an unusual typographic style or explore a particular concept. Sometimes these blossom into full-fledged families; other times they remain a standalone design. Either way, I believe that novel fonts require a novel approach to licensing, and this club is my way of sharing them with you.
What happens next?
After you complete the signup form, you will immediately see a download link for the current font of the month. During the first week of each month that follows, I will email the new license and font files for that month's typeface. Let me know if you don't receive it.
Can I give a subscription to someone else?
Yes! I now offer a giftable subscription envelope which you can get using this order form. Each envelope contains a membership card and activation code, which your recipient can enter here to start getting their monthly fonts.
I usually ship these USPS First Class within 2 days of your order, but feel free to get in touch if you require a speedier solution.
What's the license like?
The fonts are distributed under my standard Mini license, which permits use of the font on up to 3 desktop workstations, websites with up to 15,000 monthly web visitors, and 1 e-book. You can contact me at any time to upgrade to a larger license at prices comparable to my other retail families.
Do I *really* need another subscription service in my life?
I totally hear you on that! But this isn't like other subscription services: Your license for each font is perpetual, so you can continue to use them long after your subscription ends. Plus, auto-renew is completely optional, so your membership can be a one-time purchase and you can re-up for long and as often as you'd like.
What if there's a problem?
If you choose to terminate your license within 30 days of signing up, I will issue you a full refund. If you have a problem with any font I send you, get in touch and I will try to help. If I am unable to deliver a font over the course of any month that you have subscribed for, I will naturally reimburse you for the cost of that month.
What characters will the fonts have?
Character sets for these fonts will vary. Some of the display fonts may have limited repertoires, but should be usable in all major European languages that use the Latin alphabet. Whatever they lack in completeness, they will make up for it in charisma!
Will you make stylistic variations of fonts from previous months?
Yes. My goal is to provide you with modest yet usable typefaces over time, and if I think an italic or bold or shaded style is warranted, I will make it (especially if I get requests). That being said, I will be sure to spread these out across the year, and will ensure that the differences are meaningful (no Medium weight this month, Semibold the next).
What happens to the current font of the month after the month is over?
Club members can license back issues for $12–16, depending on their subscription length. Some fonts may disappear and re-emerge as retail type families; others may remain available for private licensing upon request at my normal $25–50/style prices.
Any other interesting outlets for display fonts?
This project was inspired by The Pyte Foundry and Photo-Lettering; you should check them out!
Since launching, I learned from Florian Hardwig that Georg Salden did something like this starting in 1972...wow! Even more recently, I learned that Chank Diesel also had a program of the same name that ran in the early 2000s.
And most recently, Future Fonts launched with a bunch of in-progress display designs from talented designers.
When will this project end?
I'm not sure! Let me do a year's worth and then we will see what happens.
EDIT: Having too much fun to stop. On to year #2!
EDIT: Having too much fun to stop. On to year #3!
Can you tell me what next month's font will be?
No! Half of the fun is that you don't know exactly what you're signing up for!